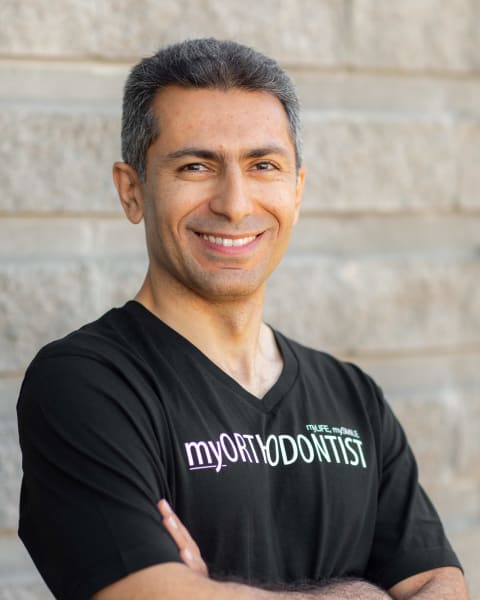 DDS, Isfahan University of Medical Sciences
MSc, Isfahan University of Medical Sciences
DSATP, University of British Columbia
FRCD(C)
Dr. Mo takes pride in helping to improve his patients' quality of life and has worked on many complicated cases for a wide range of individuals, from children to adults.
Dr. Mohammad Moniri Fard was born and raised in Iran, and from a young age, he knew he wanted to pursue a career in dentistry. Attending his first year of high school, which happened to be on the same campus as Isfahan University of Medical Sciences, he frequently met with dental students and admired their stories about dentistry and the specialty of orthodontics.
Turning his dreams into reality, Dr. Mo has helped hundreds of patients regain self-confidence and increase overall happiness through orthodontics. He takes great pride in improving his patients' quality of life and is passionate about working on complicated cases. Dr. Mo thoroughly enjoys how dynamic and unique each patient is.
Dr. Mo completed his Doctor of Dental Surgery from the Isfahan University of Medical Science in Iran and achieved his Master of Clinical Dentistry Certificate in Orthodontics. He then started practicing orthodontics and became a University Professor at Isfahan University, where he enjoyed teaching and lecturing his students for six years.
Before moving to Canada in 2018, Dr. Mo visited Vancouver on vacation and thoroughly enjoyed the city and its outdoor lifestyle. He applied to the University of British Columbia in Vancouver and was overjoyed to be accepted into the Dental Specialty Assessment and Training Program (DSATP) in Orthodontics. Once accepted into the program, Dr. Mo relocated to Vancouver and successfully graduated.
Dr. Mo is an Invisalign provider and has had the opportunity of treating a wide range of orthodontic patients, from interceptive treatment for children to comprehensive and complex treatments for adolescents and adults.
Dr. Mo is a member of the Canadian Association of Orthodontics, the American Association of Orthodontics, the Iranian Association of Orthodontics, and a Fellow of the Royal College of Dentists of Canada.
A fun fact about Dr. Mo is that if he didn't become an orthodontist, he would have pursued a career as a Veterinarian as he loves animals of all kinds. He also enjoys sports, especially swimming and playing volleyball. He was on the Isfahan University volleyball team as both a student and professor for many years. When he's not working, Dr. Mo thoroughly enjoys the outdoors and spends time hiking, kayaking, and cycling all over British Columbia with his wife, Ava.