Planning for Success  
We can help you plan your treatment around your needs, lifestyle and goals - and navigate common roadblocks along the way.
You need your orthodontic treatment plan to fit your needs, circumstances and lifestyle. At My ORTHODONTIST, we're committed to working with you to identify your treatment goals - and set you on the path to fulfilling them. 
To start, we'll meet with you to ensure your preliminary questions are answered and that you feel comfortable making the choice to move ahead with us for your orthodontic care. 
If you've already been through Phase 1 or Phase 2 orthodontic treatment with us as a child or teen, you'll have met our team and may require a shorter treatment phase as an adult to correct alignment issues, crowding or other problems. 
If this is your first time working with us - welcome! We look forward to addressing your concerns and helping you reach your goals. After examining your smile, we'll recommend appropriate treatment options, accounting for your lifestyle, needs, personality and other important aspects of care. 
Once your treatment plan is established, we'll be here to help you find answers to any questions and address concerns that may come up.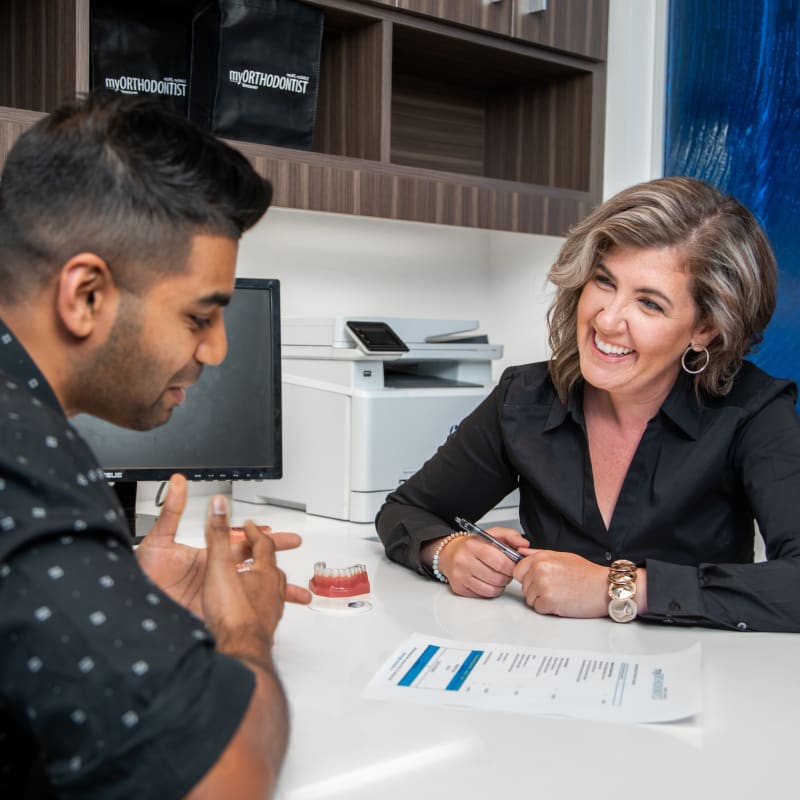 First Visit
After thoroughly reviewing your medical and dental history, we'll take 2D/3D images of your teeth and conduct a comprehensive clinical examination. Then, we'll provide our diagnosis and options for treatment. We can also address any questions or concerns.
Treatment Planning 
We understand that finances can be a concern for anyone undergoing orthodontic treatment. Once we've met and established your treatment plan, our Treatment Coordinator will schedule future appointments and work with you to build a custom payment plan.
Treatment Begins
Next steps will be based on your treatment plan. Typically, we would create and place your custom-made orthodontic appliance, which might be braces or Invisalign aligners to help straighten teeth, repair alignment issues and help you achieve your treatment goals.
Ongoing Treatment
We'll check in with you every so often so that we can monitor your treatment progress. Any required adjustments will be made and we can address any questions or concerns you may have before booking the next appointment. If any issues pop up between our visits, feel free to contact us.