Meeting Your Teen's Needs 
We'll work with both you and your teen to identify their needs and help you navigate the treatment process.
Successful orthodontic treatment considers the patient and their needs, and adapts to fit them. We'll work with you and your teen to establish priorities and set treatment goals.
Before meeting your teen, we'll have one or two phone conversations with you to ensure your preliminary questions are answered and that you feel confident in coming to us for your teen's care. 
If your teen has already been through Phase 1 orthodontic treatment with us as a kid, they'll have some history with us and will likely require a shorter treatment phase to correct alignment or other issues. 
If this is your first time working with us, we'll first seek to establish rapport with your teen, address their concerns and bring them into the conversation. 
After assessing their smile, we'll recommend appropriate treatment options, taking into account your teen's lifestyle, needs and personality, and other aspects of care.
Once your teen's treatment plan is set, we'll be here to guide you through every step of the process.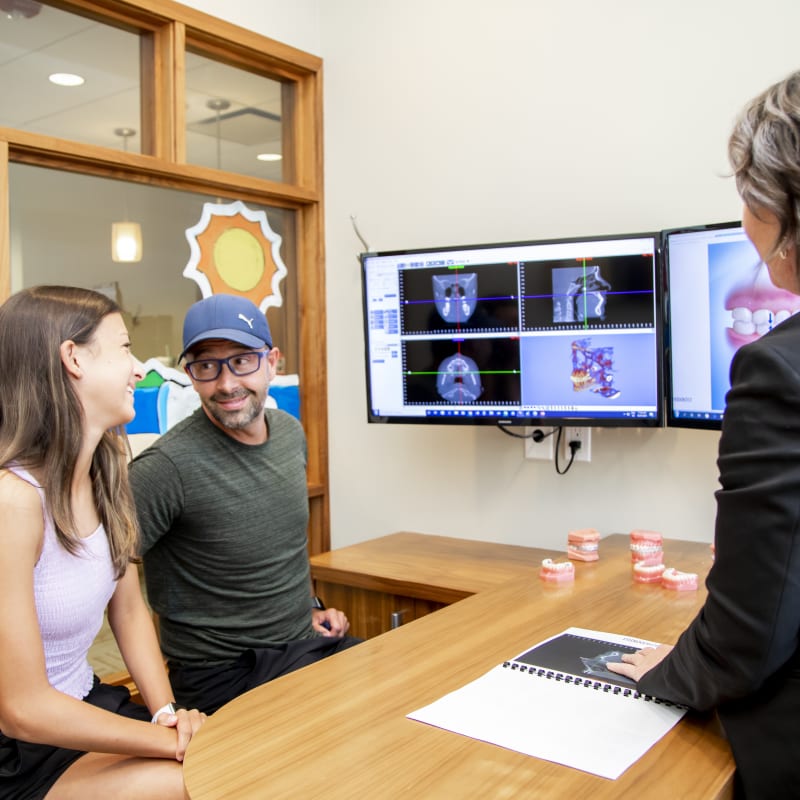 First Visit
We'll thoroughly review your teen's medical and dental history during their first visit. 2D/3D digital images of your teen's teeth will be taken and a complete comprehensive clinical examination done before we review diagnosis and discuss treatment options.
Treatment Planning 
We understand the financial aspect of treatment is a common concern for families. Once your teen's treatment plan has been established, our Treatment Coordinator will book future appointments and work with you to build a customized payment plan that works for you. 
Treatment Begins
Next steps will be based on your teen's treatment plan. Typically, we would create and place their custom-made orthodontic appliance, which may be braces or Invisalign Teen aligners to help straighten teeth, repair alignment issues and help them reach their treatment goals.
Ongoing Treatment
We'll check in with your teen periodically so that their treatment progress can be tracked. Any required adjustments will be made and we can address any questions or concerns either of you may have before booking the next appointment.