How can early orthodontic intervention be valuable for kids?
In the first phase of our 2-Phase Orthodontics Approach, we can take advantage of the natural growth patterns of your child's mouth to guide jaw and palate development and make a positive impact.
We know that by the age of 4 years old, roughly 60% of facial development takes place. By the age of 12 years old, this number increases to 90%. 
This means that the early years (ages 5-11) are critical. In fact, the Canadian Association of Orthodontists recommends that every child visit an orthodontist before age 7 for an initial assessment.
If we can catch developmental issues early on, we may be able to address the root cause of the problem and guide proper jaw development.
Our goal is to prevent problems from developing in the first place and eliminate the need for tooth extractions, oral surgery, and orthodontic treatment later in life. 
By offering early orthodontic treatment with Invisalign First or braces, we may be able to improve the width of dental arches, and address other conditions, such as chewing and swallowing issues, and help correct unhealthy habits, such as thumbsucking.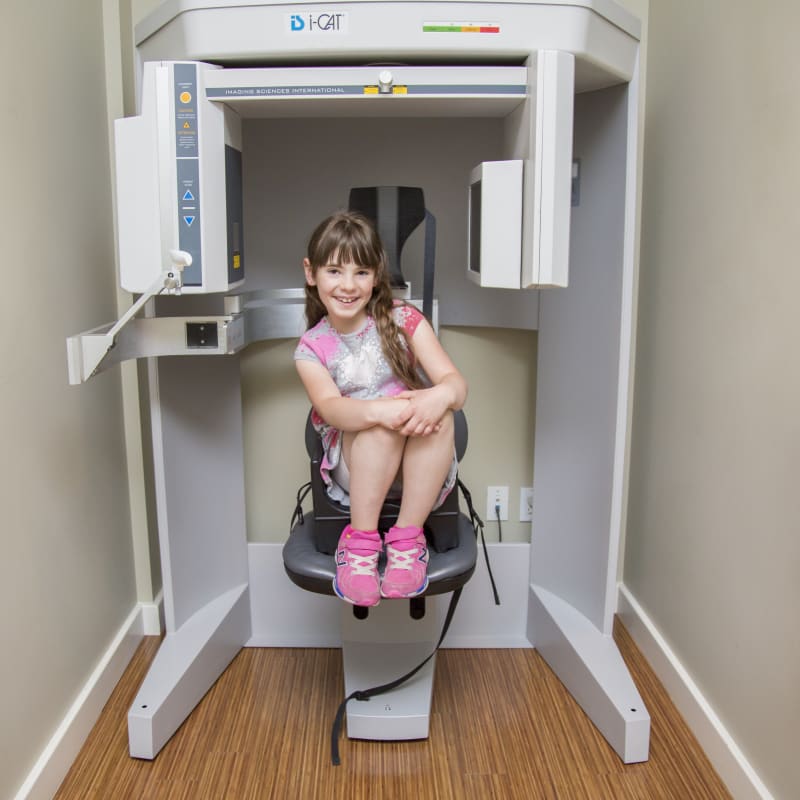 Children can suffer from a variety of issues that are rooted in orthodontic problems, but are not obviously related. We may be able to address problems like snoring, obesity, headaches, bedwetting, and more with early orthodontic intervention.
What happens during Phase 1 orthodontic treatment?
Early intervention, also known as Phase 1 orthodontic treatment, is for children between the ages of 5 and 11 who may have bite issues, crowded teeth, or airway problems.
Phase 1 can include a variety of orthodontic treatments or treatment combinations. The most common include palatal expansion, braces, Invisalign First, and treatment for a range of airway issues.
Our team at My ORTHODONTIST is able to develop a customized treatment plan where Phases 1 and 2 are mapped out. By taking these early steps, we may have a greater chance of being able to preserve your child's oral health.
Why is early intervention important?
Untreated orthodontic issues can become serious and lead to more problems as children mature. By intervening early, our orthodontists at My ORTHODONTIST can potentially offer less invasive treatments and prevent problems from becoming more severe later on.
Why should early treatment be a high priority?

The Canadian Association of Orthodontists recommends that kids have their first orthodontic evaluation at the age of 7. This is because young children's skeletal structures are malleable as they continue to develop and grow, making it possible to change the trajectory of jaw development, potentially helping to prevent the need for surgery as your child develops.

A common misconception is that orthodontic treatment can only begin when permanent teeth have fully erupted. But in fact, the opposite is true.

The earlier we can detect orthodontic issues, the sooner we can address them while the jaw is still developing, which can lead to better outcomes for oral and overall health, and less need for invasive measures such as tooth extraction or surgery later on. This is why early detection is critical to future oral health in your child's teen and adult years.

Can less invasive treatments make a positive impact?

Dental decay, mouth breathing and thumbsucking can cause significant orthodontic problems later in life. With Phase 1 and Phase 2 treatments, we can often treat these issues early to prevent them from worsening.

By addressing other common problems, such as teeth crowding, we can often help eliminate the need for tooth extractions and other invasive procedures as your child grows and jaw structure becomes less malleable.

What does a treatment plan involve and how long will it last?

Treatment can begin when your child still has baby teeth. During the first phase of treatment (which typically lasts up to 9 months), your child will wear a retainer until their permanent teeth emerge.

After their permanent teeth have erupted, we can identify whether Phase 2 treatment is needed.

The majority of children who need Phase 1 treatment will need a second phase of treatment. However, the second phase can be shorter and less invasive if progress is made during early Phase 1 treatment. That's why early visits are important.