Welcome myORTHODONTIST West Vancouver
myORTHODONTIST West Vancouver is conveniently located in the Park Royal Shopping Centre with easy access by public transport and plenty of free parking for our patients.
It is our mission to make orthodontic treatment more accessible and affordable for people in all walks of life throughout West Vancouver's vibrant communities. That is why we proudly offer flexible payment plans, that include financing and direct billing to insurance.
Our team of orthodontic professionals are here to help you straighten your teeth and achieve your smile goals.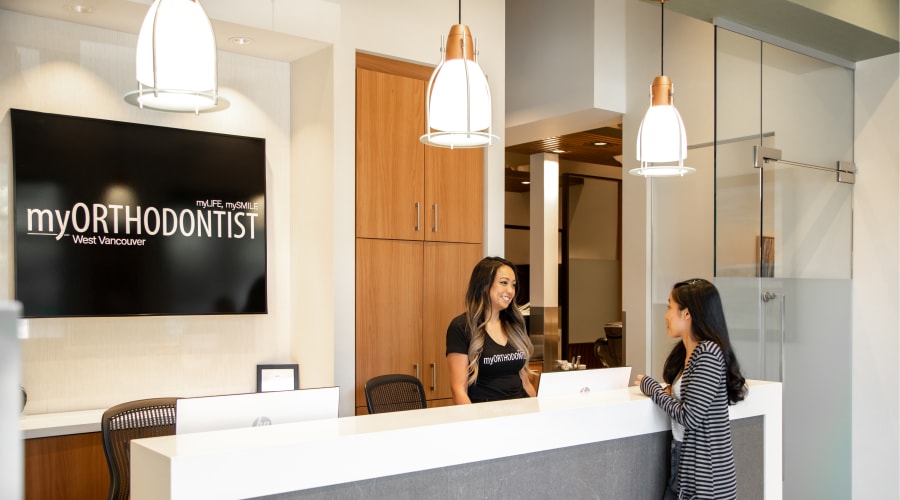 What's Happening at our West Vancouver Clinic!
GET STARTED TODAY!
Book Your Consultation for Invisalign teen at our West Vancouver Location.
Tour Our Office
Click a photo to view the full size image.
Our Misson
At myORTHODONTIST - West Vancouver, our team is dedicated to helping you find the best orthodontics solution for you and your family. 
More About myORTHODONTIST West Vancouver
We are dedicated to providing comprehensive, personalized orthodontic care for children, teens, and adults in West Vancouver and surrounding communities.
When you visit our West Vancouver myORTHODONTIST office in the Park Royal Shopping Centre we will perform a comprehensive assessment of your smile, then create a custom orthodontic treatment plan to address your specific smile issue.
From Invisalign for children, teens and adults to a selection of braces treatments including conventional, translucent, and lingual styles  - we will work with you to find the right orthodontic treatment option to help straighten your teeth and give you more confidence in your smile.
Meet Our Orthodontists
Community Involvement - HIDDEN FOR NOW
There are a number of malocclusions (misalignments) of the teeth and jaws that can be treated (completely or partly) by braces. These include overbite, crossbite, overjet and crowded teeth.
Your orthodontist will perform a clinical examination of your mouth and jaw to determine the nature and severity of your orthodontic condition and recommend treatment accordingly.